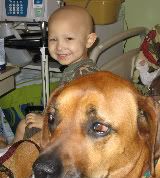 ASHEVILLE

- Offers of help for little Paxten Mitchell began coming in early Friday morning.




Paxten, 3, has a rare form of leukemia, and payment for the unusual treatment he is receiving at Mission Hospitals has been denied by the company that administers the city of Asheville's insurance plan. His father, Robert Mitchell, is a firefighter with the city.

Jessica Miller, of Alexander, has set up jars for donations on the counters of several local stores, hoping to help the family with bills.

"I have a little boy 13 months old, and he's healthy, thank God," Miller said, "I just cannot imagine hearing my child has leukemia and then finding out the insurance company won't cover his treatment."
Source:
Asheville Citizen-Times
Hat Tip: Carolina Stompers
What you can do to help this child,
visit his online journal
and make a donation to Caringbridge after you read about him and his struggle. There are also photos to look at as well.
I will be contacting the Credit Union tomorrow to see if there is a procedure for online donations...bookmark this post and return for an update.
Until then, you may send checks to:
Robert Mitchell
c/o Paxten Mitchell Fund
Premier Federal Credit Union
148 Charlotte Street
Asheville, NC 28801
or inquire further at 828-252-2346

You might want to contact the people who refused insurance coverage,

Primary Physician Care

.

The Carolina Stompers have another angle on this story:



Apparently there was a guy named John Miall who did a great job as the Risk Manager for the City of Asheville. He supposedly spent years on the insurance situation in Asheville and was nationally recognized for his solutions such as "The Asheville Project". Under his leadership, the City of Asheville invested a small amount of money and built a corporation called "Asheville Claims Corporation" to handle critical insurance payments and pay city employees premiums. This "Asheville Claims Corporation" had a total worth of 5 million dollars. Sources tell us that when John Miall retired the Finance Director dissolved Asheville Claims Corp. and dumped all the money (5 million dollars) into the city's General Fund which only lasted 1 fiscal year. Note, money in the General Fund can be used for any purpose. This money could save Paxton Mitchell's life.

If you recall, in 2007 the City of Asheville had a 2.4 million dollar deficit.

A few months later the City Budget Dept. announced they had a 2.5 million dollar surplus...




Source:
Carolina Stompers
Just when you thought it was safe for the corrupt politicians in Asheville, the Stompers have opened another can of worms.