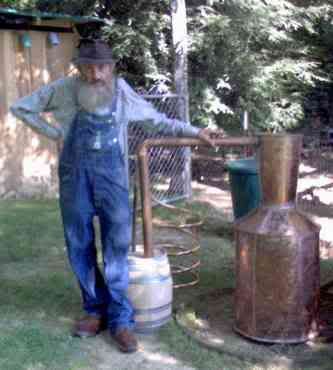 Photo Courtesy of

Appalachian Traveler
Marvin "Popcorn" Sutton (pictured above) has been arrested:
ATF Agent Gregory E. Moore wrote in a federal complaint unsealed Friday that an undercover agent has in less than two months bought from Sutton some 300 gallons of the untaxed liquor and was poised to buy another 500 gallons in a single transaction. Authorities instead opted to raid Sutton's three properties, including a barn and an old school bus he allegedly used to store his 'shine, Moore wrote.

In those Thursday raids, authorities seized more than 850 gallons of moonshine and three stills with capacities of 1,000 gallons each. They also discovered "hundreds of gallons" of mash and other moonshine-making ingredients, according to a release by U.S. Attorney Russ Dedrick.
Source: Appalachian Scribe
Commentary
This is ridiculous. The ATF are just "revenuers" seeking an easy arrest. I'll bet that the old man was not up to date on making sure the correct people "had their cut" from the business action. I won't speak to things I observed in my childhood for fear of the feds going after more old men, some of them now retired law enforcement officers, judges, state and federal agents from various agencies. I am sure it still goes on in all levels in this area.
It should be no secret that I hold this particular agency (the
ATF
) in the lowest of regards, with only the
IRS
held in lower esteem. Were I in charge of the next revolution, these two agencies would be abolished.
Here is a description of ATF Responsibilities
from their website
:



The Bureau of Alcohol, Tobacco and Firearms (ATF) is a law enforcement agency within the United States Department of Justice. The ATF's mission is to protect America against crime, violence, and other types of threats to the public, such as terrorism. In order to achieve this goal the ATF enforces Federal laws and regulations relating to alcohol, tobacco, firearms, explosives, and arson.

Other responsibilities of the ATF include collecting revenue and supervising different federal crime prevention programs, such as Gang Resistance Education and Training, otherwise known as GREAT.

On November 25, 2002, (after 9/11), the Homeland Security Act of 2002 split the Bureau of Tobacco and Firearms into two different sections:

--- The Bureau of Alcohol, Tobacco, and Firearms was renamed the Bureau of Alcohol, Tobacco, Firearms and Explosives (BATFE). It is now a part of the Justice Department. Its main responsibility is law enforcement.

-- The Alcohol and Tobacco Tax and Trade Bureau remains in the Treasury Department. This section oversees tax collection.