updates at end of post...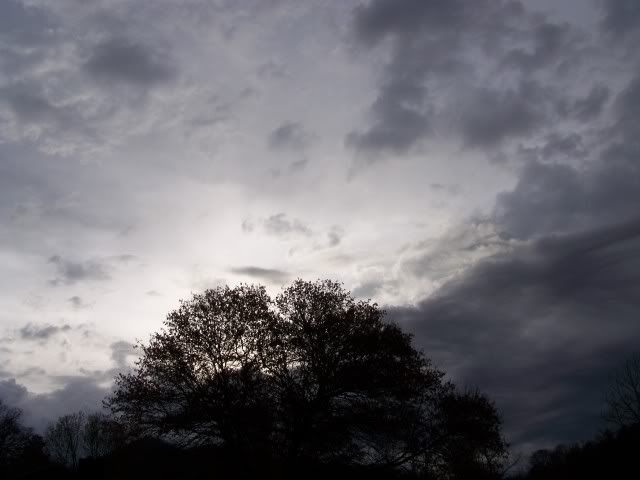 This is the view to the east in eastern Macon County as the entire western sky has grown dark, and the rumblings of a near constant thunder can be heard...sounds like the first real thunderstorm of the season is gonna be a good one!

The image below is looking to the west...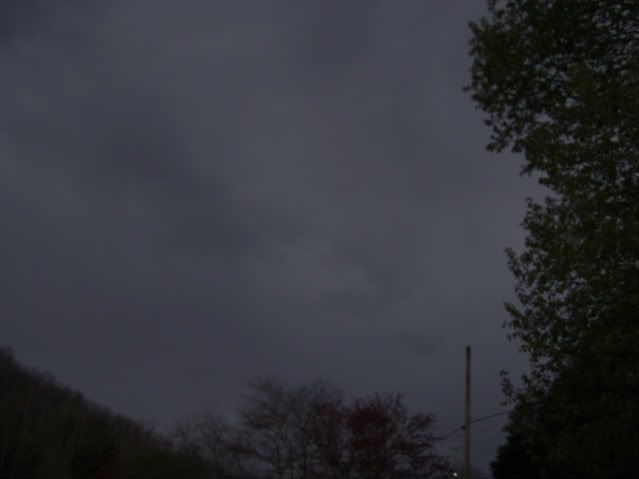 I have taken a screenshot now of the radar since I will almost certainly loose access to the Internet as the first wave of storms approaches. I have a
weatherpage that you can refer to
for updates to the local weather.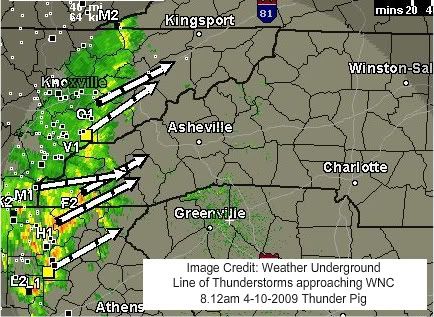 Here is the latest update:
Special Weather Statement
SPECIAL WEATHER STATEMENT
NATIONAL WEATHER SERVICE GREENVILLE-SPARTANBURG SC
758 AM EDT FRI APR 10 2009
NCZ051-052-058-059-062-101300-
GRAHAM-HAYWOOD-MACON-NORTHERN JACKSON-SWAIN-
758 AM EDT FRI APR 10 2009
...STRONG THUNDERSTORMS WILL AFFECT THE SOUTHWEST MOUNTAINS OF NORTH
CAROLINA THROUGH 900 AM EDT...
AT 757 AM EDT...NATIONAL WEATHER SERVICE DOPPLER RADAR INDICATED
STRONG THUNDERSTORMS ALONG A LINE EXTENDING FROM 9 MILES WEST OF
SEVIERVILLE TO 9 MILES WEST OF MURPHY...MOVING EAST AT 45 MPH.
THESE STORMS WILL BE NEAR...
  SANTEETLAH LAKE BY 810 AM EDT.
  ROBBINSVILLE BY 815 AM EDT.
  FONTANA LAKE BY 820 AM EDT.
  STECOAH BY 825 AM EDT.
  NANTAHALA LAKE BY 835 AM EDT.
  BRYSON CITY BY 840 AM EDT.
PEA SIZE HAIL...AND WIND GUSTS UP TO 40 MPH ARE EXPECTED WITH THESE
STORMS. FREQUENT LIGHTNING MAY ALSO OCCUR. MOVE INDOORS IF POSSIBLE
AND STAY AWAY FROM WINDOWS AND DOORS. AVOID USING TELEPHONES UNLESS
IT IS AN EMERGENCY.
$$
HG


And the short term forecast:
NATIONAL WEATHER SERVICE GREENVILLE-SPARTANBURG SC
736 AM EDT FRI APR 10 2009
GAZ010-017-018-026-028-029-NCZ051-052-058-059-062>064-SCZ001-002-
004-005-010-011-019-101345-
RABUN-HABERSHAM-STEPHENS-FRANKLIN-HART-ELBERT-SWAIN-HAYWOOD-
GRAHAM-NORTHERN JACKSON-MACON-SOUTHERN JACKSON-TRANSYLVANIA-
OCONEE MOUNTAINS-PICKENS MOUNTAINS-GREATER OCONEE-GREATER PICKENS-
ANDERSON-ABBEVILLE-GREENWOOD-
INCLUDING THE CITIES OF...CLAYTON...CLARKESVILLE...TOCCOA...
HARTWELL...ELBERTON...CHEROKEE...WAYNESVILLE...SYLVA...FRANKLIN...
BREVARD...ANDERSON...ABBEVILLE...GREENWOOD
736 AM EDT FRI APR 10 2009
AN AREA OF SHOWERS WITH EMBEDDED THUNDERSTORMS WILL BEGIN TO ENTER
PORTIONS OF THE WESTERN CAROLINAS AND NORTHEAST GEORGIA THROUGH
930 AM. THESE SHOWERS AND STORMS WILL PRIMARILY AFFECT LOCATIONS
WEST OF THE I-26 CORRIDOR THROUGH THE MID MORNING
HOURS...INCLUDING THE FAR WESTERN UPSTATE AND THE CENTRAL AND
SOUTHERN NORTH CAROLINA MOUNTAINS. HEAVY RAINFALL...GUSTY
WINDS...AND DANGEROUS LIGHTNING WILL BE POSSIBLE WITH THE
STRONGEST STORMS AS THEY MOVE QUICKLY TO THE NORTHEAST THIS
**9.18am**

Looks like all the cells are dying out to the west before they get here, and new ones are forming overhead or slightly to the east. Looks like the best storms are going through North Georgia. An new one forming in Union Co. Gorgia might get us in 40 minutes, if it doesn't die on me...
| | | | | | | | |
| --- | --- | --- | --- | --- | --- | --- | --- |
| S4 | 44 dBZ | 20,000 ft. | 2 kg/m² | 0% chance | 0% chance | 0.00 in. | New Cell |
Here is a bit of raw video of the approach of one of the earlier cells before it died, just give it a little time to process, as I have just uploaded it (41-42 sec for a lightning blot to the south):