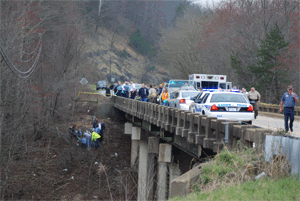 Photo Courtesy

McDowell News
N.C. Highway Patrol trooper Andy Waycaster was arresting a man about 2 p.m. on the Sugar Hill Road I-40 overpass when the man cut Waycaster four times, at least once in the face, Highway Patrol Sgt. Pat Staggs said. Staggs said investigators think the suspect used a box cutter.
Staggs said Waycaster and the man were in the squad car when the cutting took place.
Waycaster then drew his .357-caliber pistol and fired two shots at the suspect, killing him. Staggs said he did not know where on the body Waycaster shot the man.
Waycaster was taken to Mission Hospitals for serious injuries, Staggs said.


Source:
Asheville Citizen-Times
My prayers are with the trooper and his family. At least he has rid the earth of one idiot. Box cutter? What kind of idiot takes a swipe at a NC State Trooper with a box cutter? I am going to nominate the dead guy for a

Darwin Award

.

**update** 4.43pm

Ashvegas has a post about it

, and will let us know how the WLOSers cover it. (I guess I am lucky I can't get the WLOS from Franklin).

**update** 6.50pm Blog Reader Michelle caught a very glaring error in this post...I had the Trooper shot, when he was cut. For that error, I apologise, I should have payed more attention.

More from the

Asheville Citizen-Times

:


Trooper's life not in danger



Waycaster, 24, was cut at least four times, in the face, neck and upper torso, Highway Patrol Sgt. Pat Staggs said.

Waycaster, of Old Fort, was awake and talking to his wife at the hospital, Dickey said. He has been a trooper three years.

"At this time, it appears his injuries are not life-threatening," Dickey said. "He has extensive lacerations on the left side of his face. He was cut from his ear to his mouth," in addition to cuts to his extremities.

"He's a fighter," Dickey said. "His wife is in there and he's talking to her."

"He's a hardworking trooper, always making drug cases, just real active," said Trooper Josh Dowdle, who identified himself as Waycaster's best friend. "He's always there if somebody needs something."