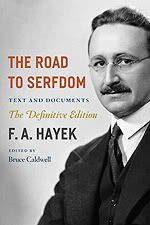 Carolina Journal's Mitch Kokai has interviewed Bruce Calwell, of
Duke University's Center for the History of Political Economy

, about Friedrick von Hayek's 1944 book, The Road To Serfdom.
Check it out
.
Read a review
of Caldwell's Edition of The Road To Serfdom.
Wikipedia Article
Reader's Digest version
(pdf download)
Mises
photo version

The Road To Serfdom is one of the most important books written in the 20th Century, and should be required reading for anyone who cares about politics.