The Navy's newest attack submarine North Carolina will be commissioned Saturday, May 3, during a 10 a.m. EDT ceremony at Port of Wilmington in Wilmington, N.C.





Designated SSN 777, the fourth submarine of the Virginia-class will bear the name North Carolina to honor the Tar Heel State. The submarine will be the fourth ship of the U.S. Navy to bear the name North Carolina. The first was a 74-gun ship-of-the-line that served from 1820 to 1836. The second North Carolina was a Tennessee-class armored cruiser that was built at the Newport News shipyard and served from 1908 to 1921. The third North Carolina was the first of the Navy's modern battleships, serving from 1940 to 1947, earning 12 battle stars for service during World War II. The battleship now serves in Wilmington, N.C., as a memorial for all North Carolinians who served in World War II.





Secretary of the Navy Donald C. Winter will deliver the ceremony's principal address. Linda Bowman, wife of retired Adm. Frank "Skip" Bowman, former director, Naval Nuclear Propulsion, will serve as sponsor of North Carolina. The ceremony will be highlighted by a time-honored Navy tradition when Bowman gives the first order to "man our ship and bring her to life!"
Source:
Milcom Monitoring
You can also
watch the commissioning of the SSN-777 North Carolina live at 10 am
from Wilmington on Saturday, May 3rd. I'll try to remember to post a link again before the event on Friday night.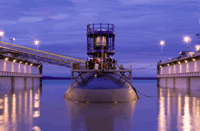 US Navy Photo