PRESS RELEASE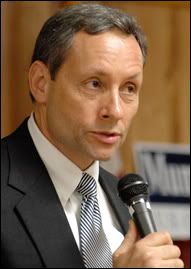 In a Monday editorial entitled "Road in Park Nothing But a Boondoggle," the Hendersonville Times-News attacked 11th District Republican candidate Carl Mumpower, a persistent proponent for completing the North Shore Road, for his insistence that the federal government follow-through on its original promise." It was the position of the editorial that "a handful of Swain County families want the road instead of having to take boats to some family cemeteries."
"The Editorial board of the Hendersonville Times-News seems to love tweaking the nose of Republicans - especially those of us who put principle above politics, party, or self-service," said Mumpower. "I find it interesting that a paper in Henderson County - owned, mind you, by the New York Times - would show such a strong interest in the affairs of Swain County. That was, until I realized that they support a team led by Senator Lamar Alexander, who is obviously supporting Tennessee's interests; his back-up quarterback Heath Shuler, supporting who-knows-whose interests; and environmentalists and National Park Service who, with their own interests in mind, never saw a piece of land they didn't want to claim."
"I am a fiscal conservative, and have a consistent voting record to prove it, but the value of your word supersedes that consideration," noted Mumpower. "The practical arguments offered in the Times-News article follow the same train of thought as those who find justification for sidestepping our promises to Veterans. What it amounts to is "sure we'll keep our word, but only as long as it's convenient."
"It may not be very politically smart to joust with folks who buy ink by the barrel - especially when they are preparing to hand out endorsements," said Mumpower. "But the Times-News editorial staff sometimes grabs headlines before they grab facts. It is easy for folks who do not live in or near Swain County to blow-off the promise to build the North Shore Road. The naysayers are not affected by the loss of jobs and opportunities that occurs when 80+ percent of your County is owned by the government - much less the loss of community identity that comes with that honor."
"Aside from indications that cost projections for building the road are inflated, it remains that the North Shore Road - and the resulting access to some of the most beautiful and pristine forests in region - have major potentials as an economic engine to uplift the people of Swain County and WNC," asserted Mumpower. "Much as Cades Cove and other roads through Tennessee have uplifted those communities."
"The proposed buy-out amounts to one-half of the annual budget for just one WNC city - Asheville - in a 'pennies-on-the-dollar' settlement with a small-down payment and a promise to pay later," said Mumpower. "And, I would add, that is a promise that's backed by the same government that's violated its word to the people of Swain County in the first place."
Mumpower concluded: "The real "Road to Nowhere" ends in Washington...and begins any other place that puts dollars, convenience, and politics before promise and principle. That includes, apparently, the doorstep of editorial staff of the Times-News." 80
C
ampaign Website
Commentary
On the issue of the North Shore Road, Mumpower has it right. The Hendersonville News-Times stands firmly on the side of the short-sighted, and money-hungry, Swain County Commissioners. I, for one, live outside Swain County, and am firmly FOR the North Shore Road, and will not vote for anyone opposed to it.

Here is a portion of the article from the

Hendersonville News-Hater

:

The "fiscal conservatives" running for the 11th Congressional District came up with an eye-popping proposal last week. They want to revive the Road to Nowhere, out of principle, not because it's needed or because anyone outside of Swain County wants it.

At a debate in Flat Rock on Thursday the candidates for the Republican nomination were asked what they thought of the project, which was first proposed in 1943 and meant to replace a highway flooded by the creation of the Fontana Dam. A handful of Swain County families want the road instead of having to take boats to get to some family cemeteries.

"That's a hard question," said Spence Campbell. "It's a hard question because it's two different issues for a conservative to deal with." The federal deficit is a crucial issue, he said, and adding $400 million to it is not what a fiscal conservative would want.

"On the other hand, the government made a promise in 1942 I think it was that they were going to build that road. They didn't do it. In this case I think the government's promise trumps what the county commission wants to do," by taking a cash settlement.

Campbell put the pricetag at $400 million. Trouble is, the price is actually nearly $600 million, according to the National Park Service.

"Honor your word," Mumpower said. "It's more than a road. It's an economic stimulus for Western North Carolina" similar to roads through the Smokies in East Tennessee. "We should build the road."