PRESS RELEASE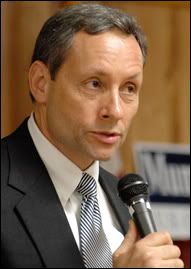 The Republican Party leadership has lost sight of its principles and become a party of cowards according to 11th District Republican Congressional Candidate Carl Mumpower. "I am ashamed of the self-serving agendas that have kidnapped my party and going forward I intend to challenge that betrayal at least as much as I challenge the Democrat's rush to socialism," said Mumpower in a Monday morning position statement.
"The extraordinary costs and precedence of the Bear Stearns corporate welfare bail out by the Fed was a final straw for me," said Mumpower. "My party has drifted on illegal immigration; further erosion of the Constitution by FISA; a 'made in China' economic stimulation plan; and a host of other actions that speak to convenience over principle." "The party of Lincoln is behaving like a party of lock-step partisan sheep."
"It is not too late to recapture America and the eroding Republican base that is heading for an exit sign marked Independent,", said Mumpower. "The only authentic difference between the major parties is found in Republican principles - small government, sanctity of life, and the 'American Success Equation" of liberty, opportunity, and responsibility. Unless these principles, along with those found in the Constitution, are supported with action, then they become meaningless. Only a party led by cowards would passively allow that to happen. I am not a coward at home and will not behave like one in Washington." 77
Those with an interest may review the following principles as posted on the National Republican Committee's website. Make your own assessment of the power of these principles and the failure to match words with action-
Republican Principles
I'm a Republican Because...
I BELIEVE the strength of our nation lies with the individual and that each person's dignity, freedom, ability and responsibility must be honored.
I BELIEVE in equal rights, equal justice and equal opportunity for all, regardless of race, creed, sex, age or disability.
I BELIEVE free enterprise and encouraging individual initiative have brought this nation opportunity, economic growth and prosperity.
I BELIEVE government must practice fiscal responsibility and allow individuals to keep more of the money they earn.
I BELIEVE the proper role of government is to provide for the people only those critical functions that cannot be performed by individuals or private organizations, and that the best government is that which governs least.
I BELIEVE the most effective, responsible and responsive government is government closest to the people.
I BELIEVE Americans must retain the principles that have made us strong while developing new and innovative ideas to meet the challenges of changing times.
I BELIEVE Americans value and should preserve our national strength and pride while working to extend peace, freedom and human rights throughout the world.
FINALLY, I believe the Republican Party is the best vehicle for translating these ideals into positive and successful principles of government. "
Campaign Website