SAN FRANCISCO (AP)
— Photographer Joe Rosenthal, who won a Pulitzer Prize for his immortal image of six World War II servicemen raising an American flag over battle-scarred Iwo Jima, died Sunday. He was 94.
Rosenthal died of natural causes at an assisted living facility in the San Francisco suburb of Novato, said his daughter, Anne Rosenthal.
"He was a good and honest man, he had real integrity," Anne Rosenthal said.
His photo, taken for the Associated Press on Feb. 23, 1945, became the model for the Iwo Jima Memorial near Arlington National Cemetery in Virginia. The memorial, dedicated in 1954 and known officially as the Marine Corps War Memorial, commemorates the Marines who died taking the Pacific island in World War II.
---
The complete article
....

The original photo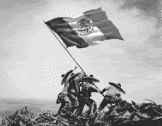 Doctored photo at a
Pro-Illegal Immigration Website
.
I'm sure that if The Action Club put up a Billboard with the revised photo on it, they would be called racist, or divisive. The people who support Illegal Aliens coming, and staying, in our country do not want dialogue that is logical. They want dialogue that is emotional and shuts down any and all opposing viewpoints.
The sooner we realize this, the better.