I changed my header to stand in solidarity with The Action Club.
One of their Billboards was vandalized, as seen below: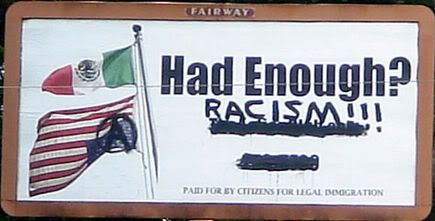 I did a little research last night and found out a few things.


A Miami Billboard was vandalized not long ago.





I also found this item below:

---
November 6, 2003 Asheville, NC: Vandals struck the Little Pigs Bar-B-Que restaurant, spray-painting ALF, "murderer," and other graffiti on two catering vans. Windows were broken in a van and in the main building.
---
There is a website (one among many) called infoshop that you need to look at. There are even advice and instructions for the below intelligence vandal. I also noticed that Asheville Global Report is listed on their side bar. Birds of a Feather, I say!!